I'm a Datsun guy in general, 510's specifically. While browsing the world wide classifieds for SR20 parts for my 510 wagon build, I happened across this ad from our local importer. Being in WA, USA we don't see many of these about.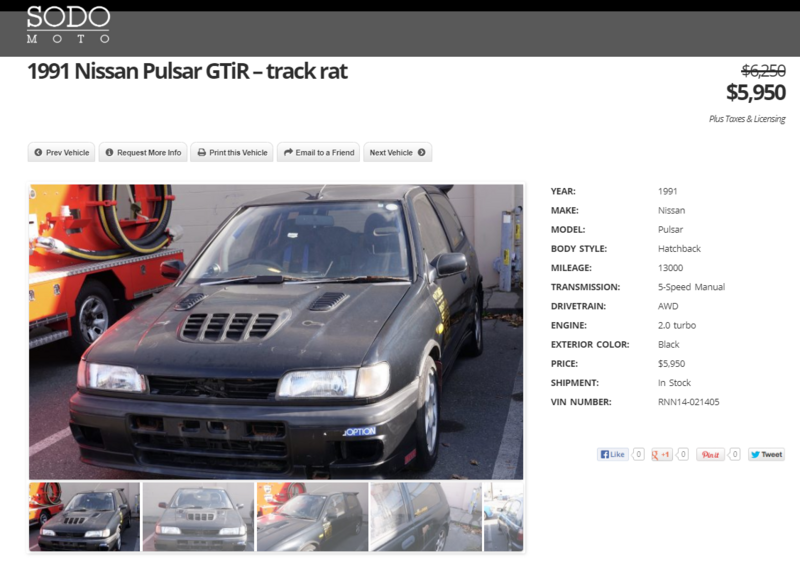 My interest was peaked and I toyed with the idea for a while but eventually moved on.
After a couple months, I came to find out that the car never sold and was still sitting at Sodo-Moto. 
My friends had dealt with Sodo-Moto and had nothing but positive reviews.
So, I decided to go down and take a look. The ad made it clear that the car was beat down with a lot of "janky tuner mods" and "battle scars"
When we got down there it was clear what they meant.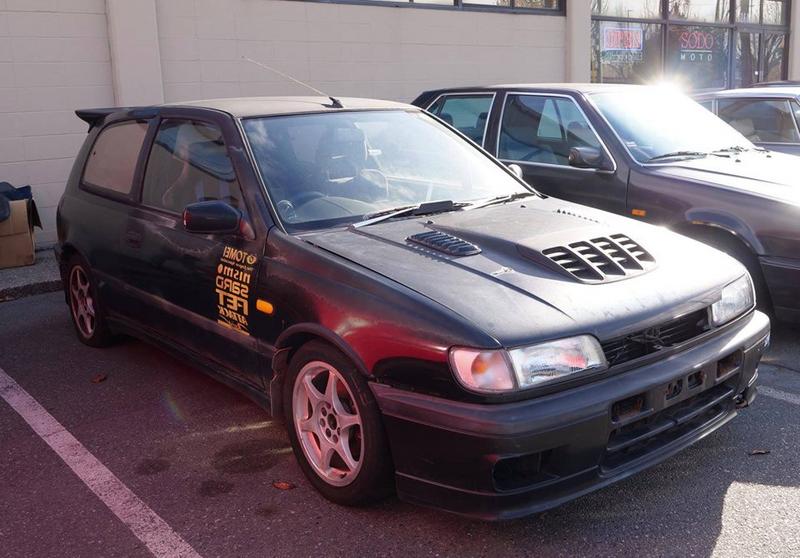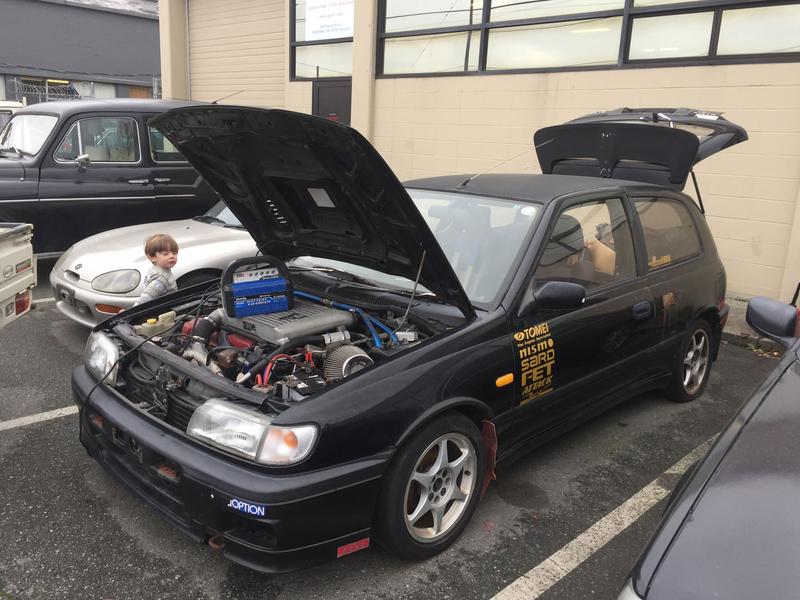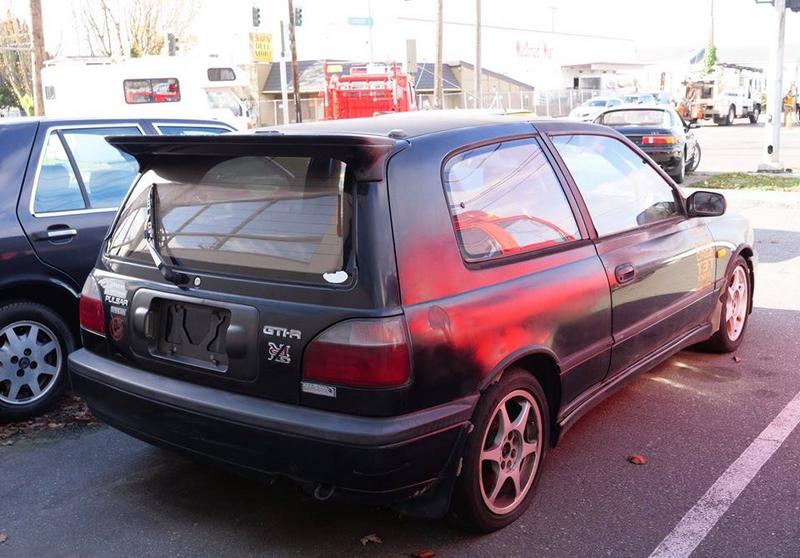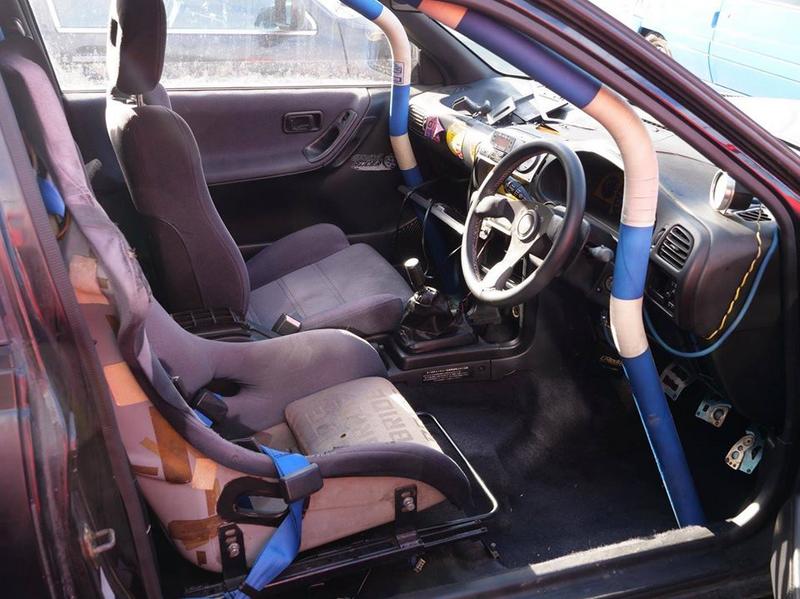 "Track Rat" seemed to be a accurate description. The car looked like it had been "raced" quite a bit. Bolt in cage, a few performance upgrades, race seat, coil overs, and  a lot of electronics tied to the ECU. We took stock of the state of the car. As they advertised, the car had some damage on each quarter, it was filled and then re-damged on both sides. Seems the guy wasn't very good at his racing of choice.It did not run as it sat. Sodo-Moto had only gone as far as ripping out a bunch of excess wiring shenanigans and diagnosing a fouled fuel pump. Other than that they knew it popped when fed some ether.  
I knew if I were to get the car it would need to be a runner without extensive work. The owner gave us permission to toy with the car at our will.
He brought out a cheapo pump and with the tools I brought we had it fired up in short time.
Surprisingly, even after what we guess to be at least 15 years, the SR roared to life. A smooth idle, good compression, boost pressure, some vapor, minimal smoke.
However, lots of lifter noise. Since the GTiR has a solid lifters, they are louder than the normal hydraulic lifter SR's I'm used to but this was excessive. This came with low oil pressure, only about 30psi and not much gain with rpm. 
Engine = good enough
Next was the transmission, unfortunately, the tires were flat. (Actually worn in half on one by what I assume to be the cars last burn out session before being parked.)
So, put it in every gear and pulled forward and back. No grinding, no red flags, best that could be done. 
Transmission = good enough
Brakes, rusted in place and needing a complete overhaul.
All glass good.
No heavy rust/rot underneath.
Interior, seats all there and looking fresh. They even had the minty stock drivers seat! The dash was trashed by gauge mounting and sun cracks.
There really wasn't much more to be learned. 
A deal was struck and then it was just waiting for delivery. 
Since I still have my torn down 510 wagon clogging up my only garage bay, my friend Jeff was generous enough to loan me a bay until the car is a driver.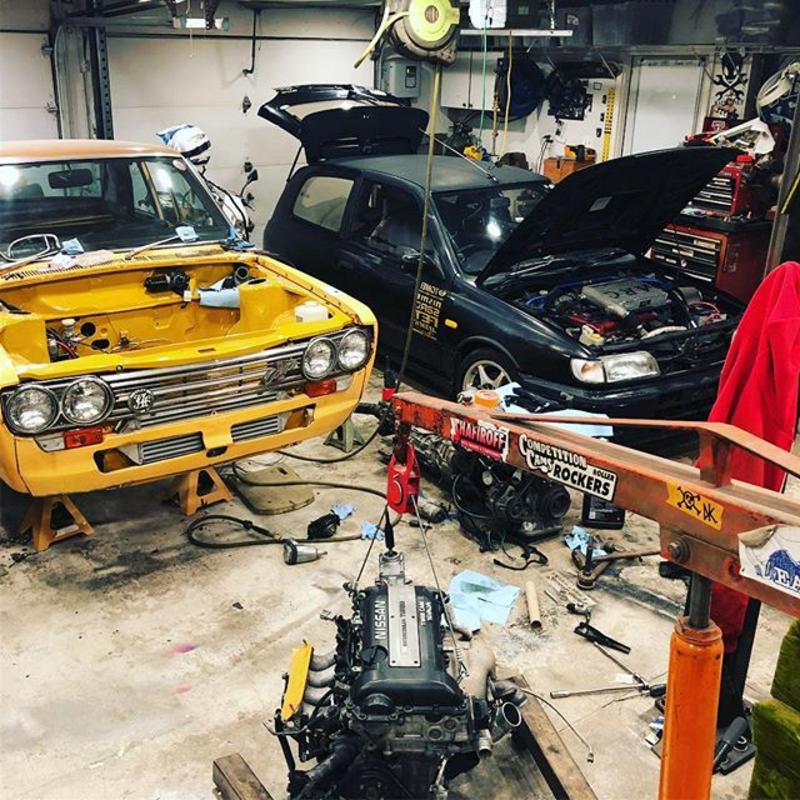 Parked next to his Bluebird coupe that he also got from Sodo, how fitting!